In een overloopzwembad geniet je gegarandeerd van een unieke zwemervaring. Het spreekt dan ook voor zich dat deze zwembaden erg populair zijn bij mensen die aandacht hebben voor het esthetische effect van een zwembad in de tuin. Interesse? Leisure Pools geeft je in dit artikel meer informatie over dit type zwembad.
What is an infinity pool?
An infinity pool is a pool where the water level is as high as the pool edge. In other words, it literally overflows. This creates a unique overflow effect so that the infinity pool is in perfect harmony with its surroundings. No wonder it is also called an overflow pool. By the way, the water hardly moves, which is very pleasant when swimming. And you won't see the edge of the pool while you are swimming, you can just enjoy the scenery.
To keep the water at the same level as the edge of the pool, water is constantly added via a buffer tank. The excess water then disappears through an overflow along the walls and flows back into the buffer tank. This is where the pool water is cleaned and heated after which it re-enters the infinity pool. Debris in the water, such as leaves, branches and/or insects, is immediately removed in this way.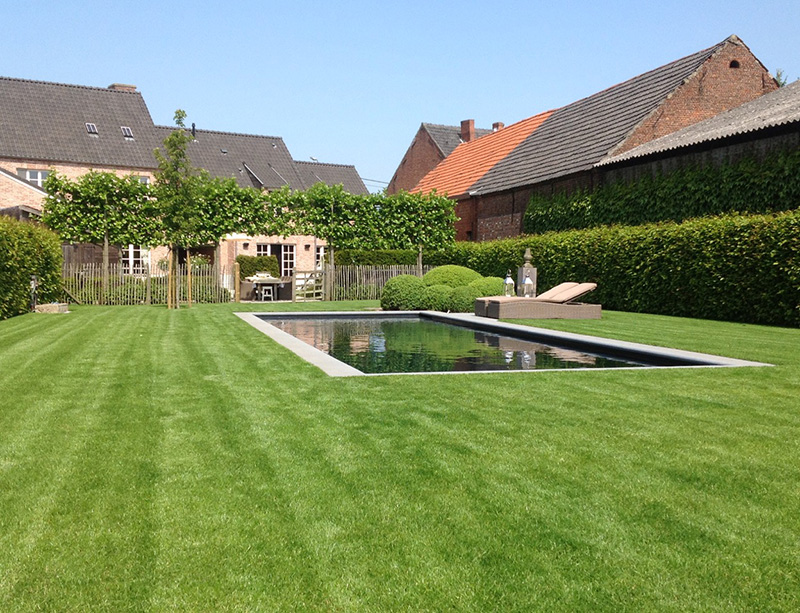 What are the advantages and disadvantages of an infinity pool?
Superb look
Swimming while enjoying the surroundings
Little resistance when swimming through water that does not move
Different models and shapes available
Durable pool Low maintenance because water circulates quickly
Good heat regulation
Low use of chemicals
Expensive to purchase
Labour-intensive to install
Can only be installed by a swimming pool specialist
High heat loss
Risk of water loss
The price of an infinity pool
Of course, an exclusive design comes at a higher price tag. In general, we can assume that an infinity pool costs about 20,000 euros more than other built-in pools. Overall, a standard 10-metre infinity pool will cost about 60,000 euros.
But did you know that Leisure Pools has created overflow pools for the general public? We came up with a solution for the expensive and energy-consuming buffer tank and instead we work with a horizontal skimmer with a high-water level. Therefore, you do not need the buffer tank, making the Leisure Pools infinity pool affordable.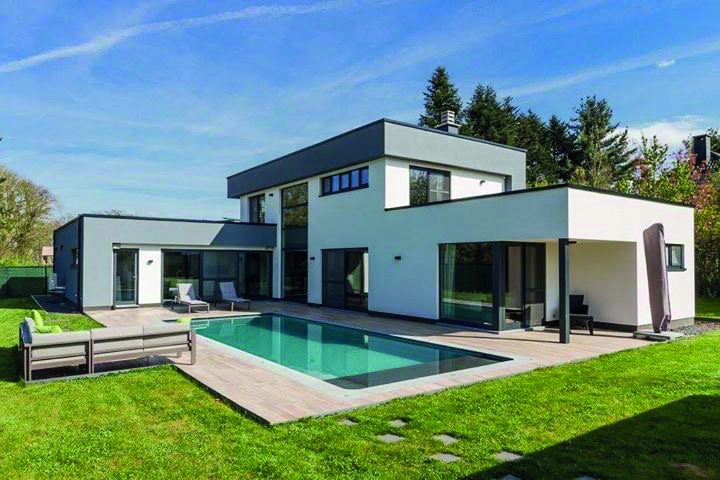 A Leisure Pools infinity pool
The advantages of an infinity pool, but with the smart technology and luxury of a Leisure Pool – what more could you want?
In our Cube series, we combined the advantages of an infinity pool with a laminated technical overflow. The water level is therefore just below the natural stone edge. In this way, we create the unique appearance of an infinity pool, but the water loss is always kept to a minimum, even during intensive use of the swimming pool. Your children and grandchildren will be able to splash dive as much as they want. No need to hold back in a Leisure Pools infinity pool.
It is better not to start building an infinity pool yourself. As a professional pool builder, Leisure Pools is happy to help you. Would you like more information about the possibilities of our infinity pools? Contact us!